Cinderpearl Flowers can only be found in the desert. Breaking a flower will yield a single Cinderpearl Pod. Putting a single pod in a crafting area or crafting table will give you 3 blaze powders. This is a quicker, safer way of obtaining blaze powder. However, similarly to grass, you can collect the actual flower through the use of shears.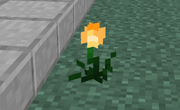 Cinderpearl Flowers also provide natural light during the night. The light emitted is similar to the light from a torch. Once broken they are not able to be re-planted. This comes from the ThaumCraft Mod and has only one use,shown above.
(Investigation required: Do they grow naturally?Any other uses?)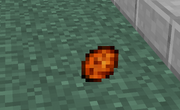 Community content is available under
CC-BY-SA
unless otherwise noted.