Tags: apiedit, Visual edit

(removed category)

 

Line 21:
Line 21:
 

[[File:AnimatedPistonRecipe.png|thumb|How to craft an Animated Piston in an infuser.]]Fusing together a gold ingot, a vaporous crystal and a normal piston creates the Animated Piston. While it cannot be placed in the world like a normal piston would (it is far too skittish for that) it does make a useful component for certain magical devices.

 

[[File:AnimatedPistonRecipe.png|thumb|How to craft an Animated Piston in an infuser.]]Fusing together a gold ingot, a vaporous crystal and a normal piston creates the Animated Piston. While it cannot be placed in the world like a normal piston would (it is far too skittish for that) it does make a useful component for certain magical devices.

 

[[Category:ThaumCraft 2]]

 

[[Category:ThaumCraft 2]]

−

[[Category:Animated Piston]]

 
 

[[Category:Infuser]]

 

[[Category:Infuser]]
---
Latest revision as of 12:04, 8 February 2021
| | |
| --- | --- |
| | This article Vis is incomplete and as such may be missing detailed and general information, images, references, and crafting recipes. Please expand the article and remove the {{Incomplete}} tag when it can be considered complete. |
Vis is a form of power introduced by the Thaumcraft 2 mod, and is used by its various machines.
There are several different forms of Vis to be found.
Liquid Vis[]
Liquid vis is made by putting items into a crucible and is used to power all thaumcraft machines. It can also be made with the Crucible of Eyes, which will damage all mobs near (not you, just friendly and enemy mobs), and use their "stolen health" to generate Vis. Also, Vis (and Taint) Can be drawn out of the atmosphere around, but this is not recomended, as it obviously lowers Vis levels, and raises Taint levels.
Vis Crystals[]
'Vis Crystals can be found usually in caves and they are purple crystals that grow on stone. Crystals can be grown using a Crystaline Bell. 'Vis crystals can be made into the ore by placing 9 crystals into a crafting grid as shown below.
[]
Animated Piston[]
Animated Piston can be created using an infuser.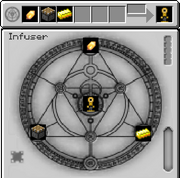 Fusing together a gold ingot, a vaporous crystal and a normal piston creates the Animated Piston. While it cannot be placed in the world like a normal piston would (it is far too skittish for that) it does make a useful component for certain magical devices.