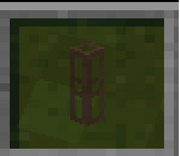 Summary
Conduits allow you to transport vis from a source (like a crucible) to a thaumic device that requires that vis. It transports both pure and tainted vis and it is possible to get clogged up with tainted vis unless it is removed somehow. The darker the shade of the purple liquid in the conduit the more tainted it is.
Craft
Flow
Vis and taintdoes not flow inside conduits by itself. Instead blocks that require vis (or taint) apply suction to any connected conduits: In effect, they suck the vis towards them. Vis always flows from conduits with low suction to conduits with higher suction values. Suction strength steadily decreases the further you go from a blocks that applies it. Most blocks like the Infuser or Arcane Furnace apply a suction strength of 50 TCB (Thaums per cubic block). This figure reduces by one for each conduit it has to travel through, which means that after fifty conduits the suction would have reduced to zero.
If more than one block applies the same suction to the same series of conduits the vis will always flow towards the closest block first.
Note should be taken that conduits and blocks have two seperate suction values - one for vis and one for taint. Blocks that require vis usually only applies vis suction which means only vis will flow towards them - the taint is unaffected.
Suction can be measured using Vis Detector or Taint Detector.
Source - [[[Vis|http://thaumcraft2.wikispaces.com/C+Thaumatorium]] Thaumcraft2 Wiki
Community content is available under
CC-BY-SA
unless otherwise noted.