| | |
| --- | --- |
| | This article Vis Filter is incomplete and as such may be missing detailed and general information, images, references, and crafting recipes. Please expand the article and remove the {{Incomplete}} tag when it can be considered complete. |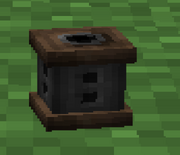 Vis Filter
Edit
The Vis Filter is a specialized conduit that slowly draws out any taint in the Vis flowing through it and pumps it directly into the atmosphere. This process occurs relatively slowly, but if a proper and constant flow is maintained through the filter it is possible to rid one's conduit network of all unwanted taint. Of course, the taint does end up messing with your environment's aura, but such is the cost of progress.
It is possible to stack additional filters on top of each other. Only the bottom-most filter can connect to other conduits, but each additional filter in the stack reduces the amount of taint that gets pumped into the atmosphere - some of the taint is simply destroyed. This does slow the filtering process down however, but it is much kinder to the environment.
The filter draws taint from the liquid Vis at the strength of 15 TCB.
Community content is available under
CC-BY-SA
unless otherwise noted.