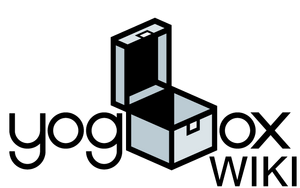 Welcome to the Yogbox Wiki!
A wiki for infomation on the Yogbox and it's mods.
The Yogbox is a modpack made for the sandbox game Minecraft
This modpack is no longer being developed
Wiki News
Do you know about ThaumCraft 2? Help the wiki and contribute!
Droobey's request to adopt the wiki has succeeded, and is now admin of this wiki!
Help with this wiki!
Yogbox is a big box of mods with a lot of content. Help this wiki and create and improve articles!
Articles that need improving and a todo list can be found in the Community Portal .
Before you start editing please read the Getting Started guide .
Community content is available under
CC-BY-SA
unless otherwise noted.